The VPN Tracker team is thrilled to announce the first major update to VPN Tracker for iPhone and iPad! This new version brings a whole host of exciting new productivity features designed to streamline your VPN workflow, including VPN on Demand and support for Home and Lock Screen widgets.
Find out everything that's new in VPN Tracker for iOS version 1.1 in our update guide…
Widgets have arrived!
New: Lock Screen Widget
iOS 16 saw the introduction of handy Lock Screen widgets to iPhone. Missing the og VPN indicator in the status bar? We feel your pain! You can now directly toggle your VPN connection right on your iPhone Lock Screen - with a practical live status view.
How it works
Tap and hold your Lock Screen and tap customise
Touch the Widgets section of the screen to open the Widgets library
Tap to insert the VPN Tracker Widget
Tap on the Widget to choose a connection (e.g. 'Home' or 'Office')
You can now use the Widget to toggle your connection on and off. The "on" indicator shows you your current connection status:
Trying out new Focus Mode wallpapers in iOS 16? Remember to add the new VPN Tracker Widget in "Work" mode to have your work VPN at your fingertips at all times.
Tip: You can even switch between different VPN connections depending which mode you're in.
New: Home Screen Widgets
You can now also add a practical VPN Tracker widget to your iPhone Home Screen and get access to up to 6 connections. Choose from 3 different widget styles...
How it works
Tap and hold your Home Screen
Tap the + icon to add a new Widget
Find VPN Tracker and choose from one of 3 new Widget styles
Tap the new Widget to select your VPN connection(s)
VPN on Demand (VIP + Consultant)
Switching between apps on your iPhone can be super annoying when you're in a rush and trying to get things done. The new VPN on Demand feature - exclusive for VIP and Consultant plans - detects when you're trying to access services that require VPN access and connects you automatically.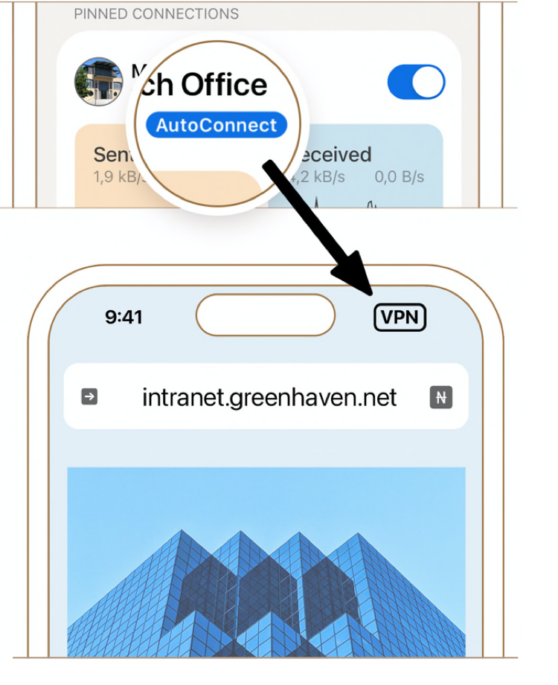 Use for:
Internal websites (e.g. Intranet)
File servers
FileMaker databases
Smart Home apps
And more!
How does it work?
How does it work? AutoConnect on Demand uses the DNS search domains configured for your connection. Once enabled, your last used VPN will automatically connect when you access a website or service that matches the DNS search domain.
To set up VPN on demand, launch VPN Tracker, go to Settings > Connection Settings and tap the slider next to On Demand for Search Domains.
VPN Tracker will then automatically connect you when you try and access VPN-dependent services.
Enjoy seamless access to essential services, whenever you need it.
Further fixes & improvements
The latest update also adds the following improvements for VPN Tracker on iPhone and iPad:
New: Support for Sophos XGS-Series Firewalls
Performance and compatibility updates for SSTP connections
Take your time: When signing in to your VPN, timeouts are automatically handled and your VPN will reconnect once you've finished entering your credentials
Further performance and stability improvements