About the NETGEAR Nighthawk AC1900
The NETGEAR Nighthawk AC1900 WiFi router (R7000) is an excellent home or small business router, supporting up to 3 VPN users (one per platform). Powered by a 1GHz processor, it provides Gigabit connection speeds, making it one of the fastest 802.11ac NETGEAR routers.
This router offers both an OpenVPN and 3rd party VPN firmware support, for those who want to tinker with OpenWRT or DD-WRT. In addition to VPN security, Nighthawk offers a bunch of unique features, including guest network access, parental controls, and a personal FTP server to ensure your safety.
On top of that, the NETGEAR Genie UI is pretty straightforward and makes it easy to configure the router - even for beginners.
On this page, we take you through the key VPN specification for the AC1900, as well as all you need to know about setting up an OpenVPN server on your NETGEAR Nighthawk device and connect on Mac, iPhone or iPad.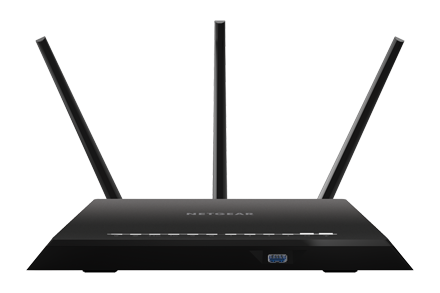 Technical Specification
Series: Nighthawk
Model: AC1900 (R7000)
Recommended for: Home Office / Personal (1-5 users)
Supported VPN Protocols: OpenVPN
Built in WiFi: Yes
Key Features: WiFi 6, 1 GHz dual-core processor, Amazon Alexa compatible, NETGEAR Armor
Device Status: Active
How to configure VPN on a NETGEAR Nighthawk router
You can prepare your NETGEAR Nighthawk VPN connection in a few simple steps:
Connect to the NETGEAR Nighthawk router (via wired or wireless connection)
Log in to the NETGEAR genie
Click "Advanced" > "Advanced Setup" > "VPN Service". Select "Enable VPN Service" and apply changes
Click "For smartphone" to download the configuration file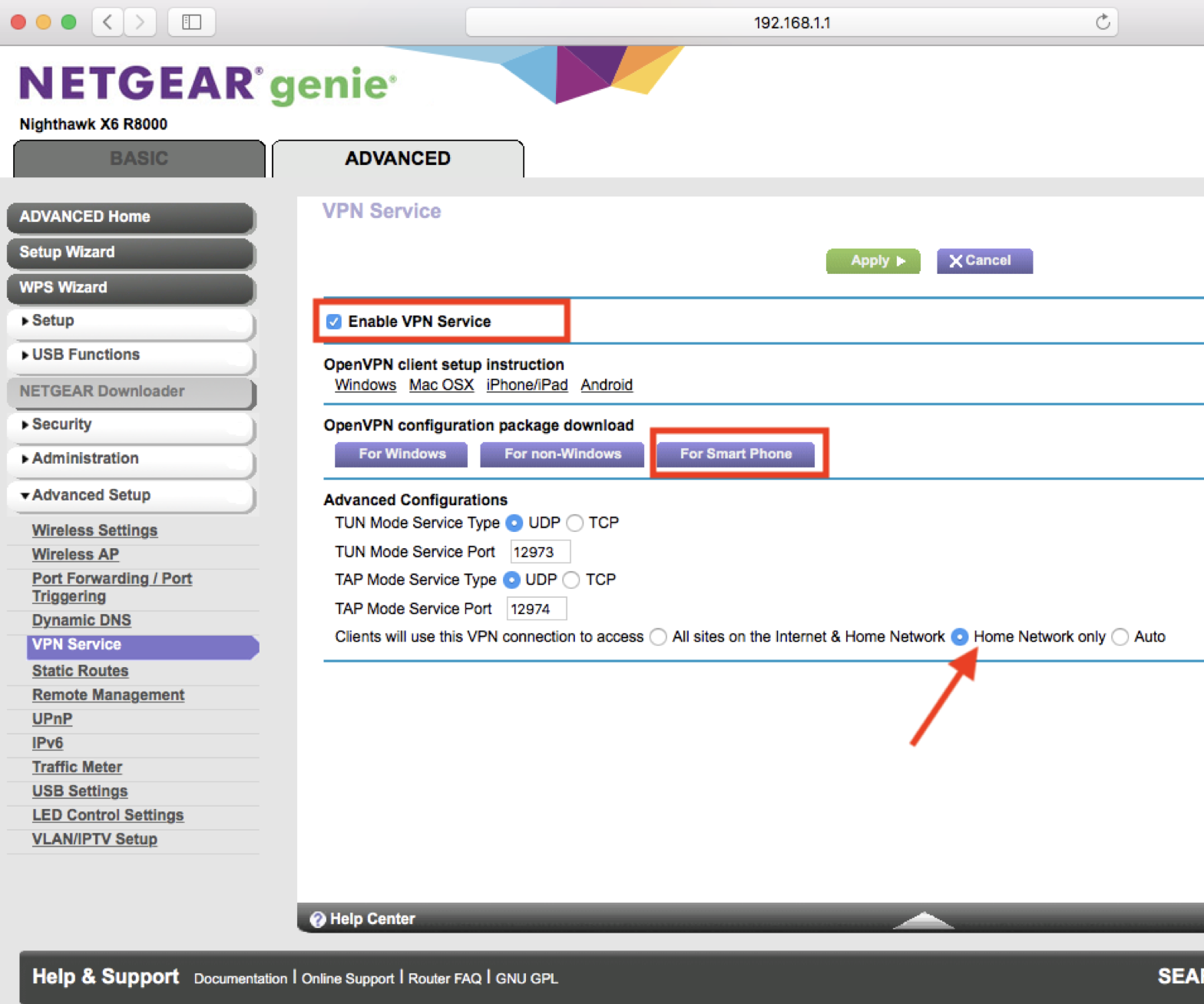 Optional but recommended: Configuring Dynamic DNS
While you attempt to download your OpenVPN settings (.ovpn file), you may receive a warning about Dynamic DNS.
Although you can proceed without enabling the Dynamic DNS service, we recommend you enable it anyway. It's easy to configure and free, and if you don't have a permanent static IP address, you will have to reconfigure your device again after the dynamic IP address changes so it is better and more productive in the long run.
Under the ​Advanced Setup tab, go to D​ynamic DNS​
Check the box next to ​Use a Dynamic DNS Service
​
If you don't already have an account, you can create one here free of charge by entering your Host Name, email address and a password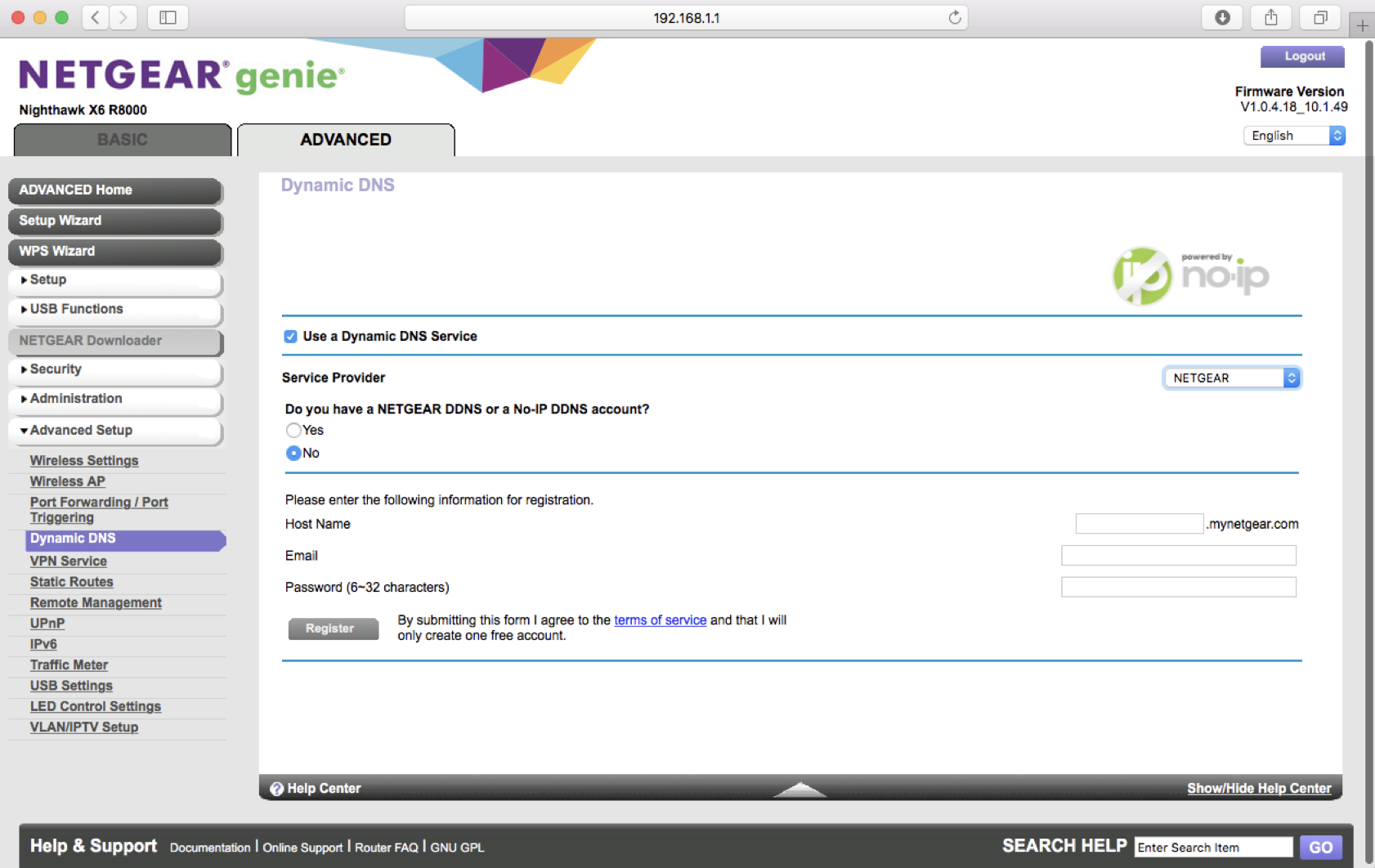 How to set up a VPN connection to a NETGEAR Nighthawk router on Mac or iOS
Follow these steps to configure a VPN Tracker connection to your NETGEAR Nighthawk router:
Add a new connection: Search for NETGEAR > Nighthawk and select Create to build a new VPN connection.
Upload your OpenVPN configuration file to import the connection, then securely save to your account using end-to-end encryption.