About the Speedport Smart 4
The main features of the Telekom Speedport routers - such as powerful WiFi 6 and support for ultra fast WireGuard® VPN - as well as an impressive price:performance ratio, make them a popular choice for private users and home offices.
Below, you can find out more about the most important features of the Speedport Smart 4 router, plus a step-by-step guide on how to configure a WireGuard® VPN- server on your Speedport device.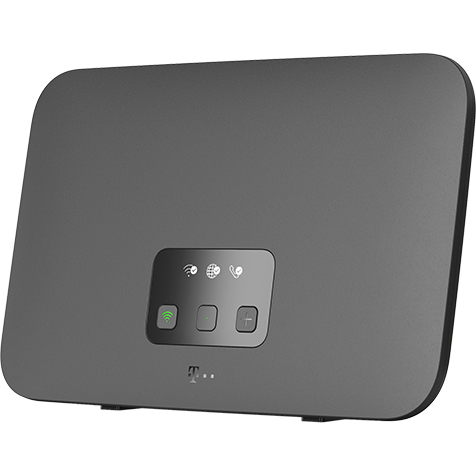 Technical Specification
Series: Telekom Speedport
Model: Smart 4
Recommended for: Home Office / Personal (1-5 users)
Supported VPN Protocols: WireGuard®
Built in WiFi: Yes
Key Features: WiFi 6, up to 6000 Mbit/s WiFi speeds (2.4 GHz - 1,200 Mbit/s & 5 GHz - 4,800 Mbit/s) MeinMagenta App
Device Status: Active
Configure a WireGuard® VPN Server on Your Speedport device
WireGuard® is a modern, Open Source VPN solution that is becoming more and more popular - thanks to its easy set up and fast connection speeds.
The Telekom Speedport Smart 4 router supports WireGuard® VPN connections. You have a Speedport device at home? Here's how to create a configuration file to use in VPN Tracker and get secure remote access to your home network on the go...
Requirements:
In order to reach your Telekom Speedport device remotely, you will need a fixed IP address or a DynDNS host name. Find out more in this guide.
Open the web interface of your device and go to the menu item "Virtual Network (VPN)"
Check the box by "Use VPN", in order to activate WireGuard® VPN
A QR code will now be generated for you which you can use to configure the VPN client in the next step. Alternatively, you can also download the automatically generated configuration file for the setup on Mac.
Connect to your new WireGuard® VPN Server
In order to connect to the new WireGuard® VPN server and get secure remote access to your Speedport device, you will need a VPN client.
VPN Tracker supports WireGuard® VPN connections on Mac, iPhone and iPad!
Follow these steps to configure a connection:
Open VPN Tracker, create a new connection and select your Speedport device from the list
Scan your QR code with your iPhone or iPad or upload your WireGuard® configuration file
Give the connection a name and save your connection in your account using secure end-to-end encryption
You can now connect to your Telekom Speedport device via WireGuard® VPN on Mac, iPhone or iPad.